Home » News » SHFE in Spotlight » content
Yang Maijun (Chairman of Shanghai Futures Exchange) Attended Press Conference of the NPC and CPPCC Delegates from Securities Sector
Updated on:Mar 25,2015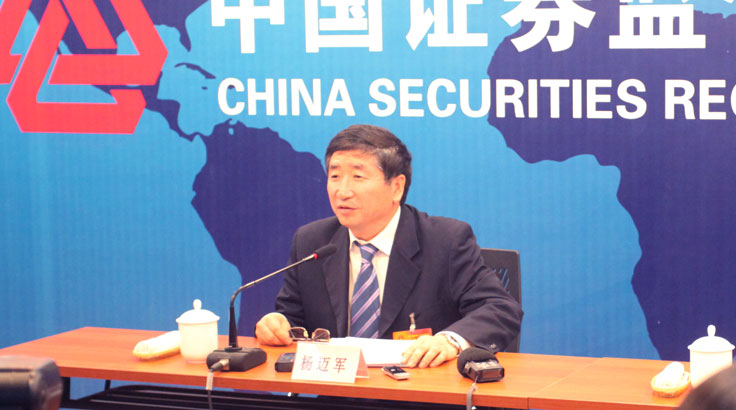 On March 10, organized by China Securities Supervision Commission (CSRC), the Third Press Conference of the NPC and CPPCC Delegates from Securities Sector was grandly held. Yang Maijun (Delegate of National People's Congress and Chairman of Shanghai Futures Exchange (SHFE)) was invited to attend. This Press Conference was themed with "Accelerating Internationalization and Rule by Law for Futures Market and Contributing to 'New Normal' of Economy", which attracted more than 30 domestic and foreign media.
Delegate Yang Maijun analyzed and interpreted hot topics on the futures market, and answered questions from journalists.
1. Question: Hello, I am a journalist from Shanghai Securities News. I would like to ask you about preparatory work of SHFE for crude oil futures. What about the latest progress? Is there a timetable for listing? Thank you!
Yang Maijun: Crude oil futures are of the greatest concern from all of you. Currently the imported oil has accounted for about 60% of Chinese domestic supply. China is highly dependent on the international market. Significant fluctuations in oil prices make real economy operation at a disadvantage. A few years ago, the State Council urged CSRC to actively launch crude oil futures. In December 2014, CSRC formally approved SHFE for listing of crude oil futures.
At present, our preparatory work is under way in satisfactory manner. On the whole, two aspects should be explained to you.
On one hand, crude oil futures is a variety traded on international market. The biggest difference between crude oil futures and non-ferrous metals futures or other varieties traded in China is that foreign traders are introduced for participation because the prevailing domestic oil market system witnesses relatively few market players on the whole. Therefore, a series of international explorations and policy breakthroughs should be made for futures market. Under the overall leadership of CSRC, the relevant ministries and commissions are actively making their due contributions in this regard.
You may have noticed that CSRC officially promulgated Methods for Foreign Participants and Qualified Foreign Institutional Investors to Participate in Trading of Specific Domestic Futures Varieties to the market and solicited the opinions some time ago. In fact, this is the most important policy concerning crude oil futures, which is closely tied with foreign investors' access. With respect to this policy, authorities in charge of foreign exchange administration, taxation and customs also have a say. Competent authorities are actively dedicated to policy research and formulation in this regard.
On the other hand, SHFE and Shanghai International Energy Exchange Limited also actively make relevant preparations, and mobilize all market players, including: trading rules, detailed rules, technical preparation, contract design, investors' access and so on.
As national ministries and commissions gradually perfect and introduce various policies and relevant preparatory work is well done in SHFE, I believe that trading can kick off in 2015. But I am unable to definitely tell you a specific timetable what is the most emphasized by you. But faster pace for introduction of such a timetable is highly expected. Thank you!
2. Question: Hello, Chairman Yang. I'm a journalist from www.news.cn. You just mentioned crude oil futures, including the opening up and internationalization. We know that crude oil futures takes the first step in opening up of China's futures market. What do you think about opening up of crude products? Thank you!
Yang Maijun: SHFE sets the internationalized direction of crude oil futures at the very start, which is simply referred to as "International Platform, Trading at Net Price and Bonded Delivery".
What is "International Platform"? It is defined as such a market with reference to the current mature international crude oil market, where international investors can freely participate in. It is also the measure in the pipeline of CSRC at present, with a variety of modes available for international investors to have access, thereby helping investors participate in trading in the easiest and the most convenient way.
"Trading at Net Price" also complies with the basic law of international crude oil futures market or the international futures market. Trading contracts and delivery are not levied with tax. After trading and delivery are completed and futures turn into spot goods, if dealers import or re-export to other places, taxation procedures should be followed for spot goods. This is precisely a common practice of the international futures market, i.e., "Trading at Net Price".
Bonded Delivery associated with this aspect refers to that crude oil for trading is tax-free, which is kept in bonded warehouse. Upon completion of trading, crude oil can be not only imported into the territory of China, but also be traded and may also be resold by other investors to any place elsewhere.
Furthermore, all dealings of commodity futures are denominated in RMB. Therefore, crude oil futures is expected to be denominated in RMB, too. This is mainly for the convenience of the Chinese investors in the trading. A favorable mode, which allows USD and other foreign currencies to offset the margin, is also designed, which facilitates investors who hold USD, HKD, GBP and other currencies to participate in trading. It is believed that such approach is not only to the benefit of RMB internationalization strategy, but also is helpful to build a standard crude oil futures market in line with China's national conditions in the Asia Pacific Region.
3. Question: Hello, I am a journalist from Futures Daily. We notice that you have submitted a proposal on accelerating the legislation of Futures Law of the People's Republic of China in 2015. Early introduction of Futures Law of the People's Republic of China is also of great concern to the futures industry. Please let us get a rough idea of progress in the legislation of Futures Law of the People's Republic of China and the importance of this law for reform and innovation of futures market. Thank you!
Yang Maijun: Thank you for your question. Once again I really put forward a proposal on accelerating the legislation of Futures Law of the People's Republic of China in 2015. Decisions of the CPC Central Committee on Several Major Issues of Comprehensively Advancing Ruling the Country by Law, adopted in the Fourth Plenary of the Eighteenth CPC Central Committee, gives great momentum for the process of China's rule by law. At present, several important markets of financial sector are governed by laws (such as Banking Law, Securities Law, Fund Law, Insurance Law and Trust Law). However, only the law specific to futures market has not been enacted by the National People's Congress as yet, which is subjected to the highest-ranking Administrative Regulations for Futures Trading developed by the State Council.
In 2013, I raised such a proposal at the First Session of the Twelfth National People's Congress. Futures Law has been included in legislative plan of the incumbent NPC. Moreover, under the leadership of the NPC Financial and Economic Committee, its legislation is in progress under dynamic propulsion. Under the leadership of Leading Group composed of Legal Work Committee of the NPC, the State Council Legislative Affairs Office, relevant ministries and commissions, CSRC, the Supreme Court and other competent authorities, the Second Draft of Futures Law has been worked out. In this process, the NPC and the relevant ministries and commissions launch extensive surveys and researches, and probe into futures exchanges, futures companies, related industries and sectors. SHFE also takes part in investigation and research.
To the best of my knowledge, the Second Draft of Futures Law favorably carries forward the keynotes of the Third and Fourth Plenary Sessions of the Eighteenth CPC Central Committee, respects the underlying law of futures market and other derivatives markets, covers comprehensive contents, and embodies scientific legislation, which largely helps reach a consensus for enacting Futures Law. In my opinion, the conditions for promulgation of Futures Law have been ripe now. Currently Securities Law has been submitted to the NPC for comprehensive amendment. Upon sufficient and in-depth study of Leading Group, the conditions for promulgation of Futures Law are quite riper. It is recommended to promulgate Futures Law in advance, without chronological arrangement for both laws as mentioned above.
Why? Firstly, securities market and futures market reveal obvious differences in terms of product nature, trading mode, offering procedures, clearing and delivery mechanism, functions and features. Therefore, although Futures Law and Securities Law are correlated, they still have their own characteristics. In the context of particularly urgent need for Futures Law, Futures Law is expected to play guaranteeing, standardizing and leading role in the internationalization of futures market.
Secondly, the current opening up of futures market and deepening of reform give urgent call for Futures Law. For example, SHFE is well-prepared for internationalization of crude oil futures and other varieties. As known to all, spot market corresponding to commodity futures has been fully internationalized. So futures market aligned with spot market should also speed up the process of internationalization. In the preparation for crude oil futures, some international investment banks sincerely wish to take part in, but they also have some confusions, as they believe that change in creditors' right of futures exchange (the concept of central counterparty) enjoys no legal protection. Regulations of the Supreme People's Court on Several Issues Concerning the Trial of Futures-related Disputes and Administrative Regulations for Futures Trading developed by the State Council ensure domestic futures exchanges to safeguard rights and interests of investors by exercising central counterparty's duties and obligations. But Futures Law represents higher level of national legislation, which will greatly contribute to international investors' firm confidence of participating in China's futures market trading and eliminating doubts in their minds. Therefore, stakeholders in all aspects of futures market, experts and scholars cherish such a desire of accelerating the promulgation of Futures Law so that the whole futures market can play bigger and better role under the support and guidance of Futures Law.
4. Question: I am a reporter from Caijing Magazine. I notice that you suggest that commercial banks should tap into bond futures during the 2015' Two Sessions of the NPC and CPPCC. What is your thinking about that? Thank you!
Yang Maijun: As we all know, treasury bond futures is launched in China Financial Futures Exchange. As a peer and shareholder of China Financial Futures Exchange, SHFE uses its great strength to support China Financial Futures Exchange to launch treasury bond futures.
Treasury bond futures is a type of financial derivative and interest rate risk management instrument widely used in the international financial market. Since treasury bond futures is listed in China, it gradually brings market function into full play in terms of promoting innovation of financial institutions, improving bond market system and effectively disseminating macroeconomic policies, etc.
At microeconomic level, innovation and development of financial institutions take faster pace, while market participants enjoy richer risk management instruments. At mesoeconomic level, the role of bridge and link is given into full play, and bond market system pattern becomes increasingly sound. At macroeconomic level, treasury bond futures better reflects market rate expectations, upgrades the effectiveness of macroeconomic policies, and assists to improve yield curve. Commercial banks are major holders and traders of treasury bonds. By the end of July 2014, spot treasury bonds held by commercial banks accounted for 70%, while spot transactions accounted for 76%. As interest rate marketization campaign is in full swing in China, commercial banks are confronted with increased market risk, and financial derivatives must be applied so as to hedge risk. Treasury bond futures is characterized by good liquidity and multi-investor structure, which is a type of ideal risk management instrument. In addition, treasury bond futures also helps commercial banks innovate products, improve asset management efficiency and enhance the ability to serve the real economy. In recent years, domestic treasury bond futures variety framework becomes further sound, system rules are constantly improved, and market foundation is continuously consolidated. By the end of 2014, 10-year treasury bond futures obtained official approval. Meanwhile, relevant rules and systems of treasury bond futures trading, delivery, risk management and membership management are all adjusted. Futures margin for treasury bond futures is also available.
It is suggested that the People's Bank of China and China Banking Supervision Commission should develop and promulgate guidance opinions for commercial banks to launch treasury bond futures business as soon as possible, make clear access criteria, participation patterns and supervision requirements for commercial banks to tap into treasury bond futures market, further improve cross-market supervision mechanism, and impel commercial banks to tap into treasury bond futures market as soon as possible.
5. Question: Hello, I am a journalist from Securities Times. You've mentioned a proposal for two consecutive years, i.e., unnecessary restrictions of state-owned assets management should be lifted for industrial customers to tap into futures market. What do you think about in this regard? Thank you!
Yang Maijun: Yes. I put forward a proposal in this regard once again in 2015. As we all know, futures market has two basic functions: 1) price finding; 2) hedging and risk management. As for the majority of spot industries and enterprises, mature varieties (such as Non-ferrous Metals, Gold and Silver), they come into play in satisfactory manner over the years. The previous problems, such as state-owned enterprises' insufficient ability to tap into the futures market and poor oversight, are gradually corrected. With the globalization of the economy in recent years, especially fluctuations in global commodity prices since 2014, entities and enterprises are exposed to ever-increasing risks in production and operation process, and they raise stronger and stronger demands for applying the futures as risk management instrument to achieve stable operation and sound development. However, participation level of industrial customers (in particular state-owned enterprises) is not high for some varieties, thereby making futures market fail to serve them well.
There are many reasons for these dilemmas. On one hand, industrial customers follow their traditional business models, have no enough knowledge of the futures market (a relatively new risk management instrument), and demonstrate poor ability to participate in the trading, which is also owed to lack of futures talents.
On the other hand, constraints from external factors of some national relevant policies are also liable for that. Firstly, as for evaluation and assessment of state-owned enterprises participating in futures derivatives trading, current mechanism is not objective and perfect. Spot enterprises hedge risks through futures trading, which should be subjected to overall evaluation with full consideration to both futures and spot operations. However, due to the high risk of futures derivative transactions, state-owned assets management authorities take cautious and strict attitude over state-owned enterprises participating in futures derivatives trading. In the evaluation of state-owned enterprise, futures hedging trading "can only make profit rather than lose" because hedging trading shows two outcomes: 1) Futures makes profit and makes up for the loss of spot goods; and 2) Profit of spot goods is accompanied with loss of futures. In case of the latter, state-owned assets management authorities deem the trading unsuccessful. Such evaluation of the state-owned enterprises participating in the futures market is not objective, which seriously limits the state-owned enterprises' enthusiasm to make use of spot and futures instruments to manage risks.
Secondly, the existing accounting standards are too stringent for identification and handling of corporate hedging. In the business accounting standards, such provisions as actual offset results of hedging range within 80%-125% are quite rigid in terms of corporate hedging identification. In practice, as the inconsistency of fluctuations in spot and futures prices easily go beyond such a limit, enterprises' trading is identified as speculative trading. This goes against the enterprises' real demand for hedging, so it is difficult for enterprises to use futures instruments.
Thirdly, tax policy also has some adverse effect on enterprises' participation in futures trading. For example, floating profit and loss of the futures hedging trading is excluded from the range of current taxable income accounting, and delivery settlement price is calculated as value-added tax base, among others, enterprises suffer from a lot of inconveniences for leveraging futures market in the actual operation.
After this problem was pointed out by SHFE, Ministry of Finance, the State-owned Assets Supervision and Administration Commission (SASAC) and CSRC attach great importance to this, set up a special research panel, and make great fruitful research efforts. SASAC also actively provides supports. Some qualified central enterprises are allowed to launch risk hedging business under the premise of controlled risks.
But several basic problems, what I just mentioned, have not been completely resolved as yet. The state-owned enterprises are still unable to fully participate in hedging trading. From the perspective of futures exchange, this market is launched in order to give full play to the function of serving real economy. So it is recommended that relevant ministries and commissions should further implement the requirements for "removing and cancelling unnecessary restrictions on the use of risk management instruments by enterprises" as stated in
Opinions on Further Strengthening Protection of Legitimate Rights and Interests of Small and Medium-sized Investors in Capital Market
, accelerate the improvement of state-owned enterprise appraisal and evaluation system, speed up the revision of hedging accounting standards, adjust relevant tax policy, and offer convenience for the majority of enterprises.
6. Question: Hello, I am a journalist from China Metallurgical News. Hot-rolled Coil (HRC) Futures is a new variety unveiled after 2014' Two Sessions of the NPC and CPPCC, which has been operated for a year. I would like to ask about its operation, its positive effect on steel industry and new initiatives taken by SHFE to serve the iron and steel enterprises in the near future? Thank you!
Yang Maijun: Thank you. Your question is very specific. To my knowledge, HRC Futures was launched for trading on March 27, 2014, and it is the third steel futures variety operated by SHFE. As of March 6, 2015, HRC Futures witnessed a total of 3.02 million lots and turnover of more than 93 billion yuan in the past year. HRC Futures has become another wonderful instrument for price risk management of iron and steel industry chain.
On July 18, 2014, delivery was successfully made for the first contract of HRC Futures, with delivery volume of 587 tons and turnover amount of 2.13 million yuan. Buyers and sellers involved in delivery obtain better understanding of the possible problems in delivery process, and gain wide experience for better application of HRC Futures trading in the future. HRC Futures trading further upgrades influence of the Chinese steel prices in the international market. Steel enterprises grasp a new risk management instrument in this way.
In the future, explorations will be continuously made by SHFE in iron and steel industry.
7. Question: Hello, I am a journalist from China National Radio. You just mentioned product innovation. In addition to crude oil futures, which new varieties will be launched by SHFE in the future? Can you introduce them? Thank you!
Yang Maijun: It should be said that product innovation is top priority of the Exchange. From the basic idea of SHFE, commodity futures is the focus business, especially non-ferrous metals, precious metals and other products. So commodity futures will continue to develop. For example, Stannum Futures and Nickel Futures, among non-ferrous metals, are expected to go listing. Other species are also under explorations. For example, Pulp Futures is also a variety under full consideration.
Of course, crude oil futures I just mentioned is more important. After unveiling of crude oil futures, underlying object of fuel oil variety will be modified into 380# Marine Fuel Oil. With the market-oriented process of domestic oil market, refined oil, gasoline, diesel and other varieties will be also considered. This is envisioned from the perspective of commodity futures.
At the same time, SHFE also sets long-term goal of developing into a comprehensive derivatives exchange. So it is necessary to research and develop futures derivatives (such as options). SHFE has prepared for a long time. Preparation for Copper Option and Gold Option is well made. According to work plan of CSRC in 2015, the opportunity to launch agricultural product options is available. Industrial option is also expected for launching.
Furthermore, SHFE is devoted to development of index futures, including the relatively mature non-ferrous metals index futures. In the past, Copper Futures, Aluminum Futures, Plumbum Futures and Zinc Futures come on the market. Non-ferrous Metals Futures Index shapes up, and this index has been released and operated for two years. And it is highly acclaimed on the whole. After the listing of Stannum Futures and Nickel Futures, they will also be included into Non-ferrous Metals Futures Index. From the perspective of global non-ferrous metals futures market, Copper Futures, Aluminum Futures, Plumbum Futures, Zinc Futures, Stannum Futures and Nickel Futures are well-established. On this basis, Non-ferrous Metals Index Futures is launched, which can play better role in non-ferrous metals industry as a whole. As known to all, there is no spot delivery for index futures, which not only facilitates all types of investors and especially financial institutions to participate in the trading, but also mirrors the operations of non-ferrous metals industry and relevant factors of macroeconomy more fully. Active research and preparation are made for some ETF products. On the whole, listing, preparation and reserve of futures varieties proceed separately on a common goal.
8. Question: I am a journalist of China Securities Journal. Dear Chairman Yang, new futures varieties are rolled out at faster pace in 2015. Next, which specific measures will be taken by SHFE to operate the existing varieties in refine and profound manner? Thank you!
Yang Maijun: I just introduced about making existing varieties refined and profound. I think the first and foremost task is to continuously probe into related varieties and industries, truly understand the market operation and the needs of market participants, make constant modifications and adjustments for the relevant systems. For example, continuous trading is an important innovation aimed to make existing varieties refined and profound. Through valuable practice in the past year, continuous trading yields wonderful fruits. Varieties, listed by SHFE, have been internationalized in the field of spot goods. As European and American trading hours are different from domestic ones and international market undergoes political and economic events which tend to result in sharp fluctuations in prices, SHFE has to take passive posture. Therefore, the introduction of continuous trading results in synergy between Gold, Silver, Non-ferrous metals and other varieties with the European and American market and global market in a timely manner.
On one hand, trading costs are cut, which is also the direction of our aggressive efforts. In the past two years, SHFE has launched Larger-side Margining to improve the efficient use of funds. It is necessary to actively explore in the future so as to gradually separate trading and clearing. From the perspective of the future internationalization trend, futures derivatives trading should also last for a longer period of time, such as 22-hour continuous trading on mature market, which is required by real economy. Therefore, it is needed to separate trading and clearing, make intraday continuous trading as long as possible, implement ongoing clearing and risk control. SHFE is duty bound and able to undertake many tasks in this regard.
On the other hand, it is necessary to explore for the integration of spot goods and futures. According to law and the history of futures market, the mature market is based on full-fledged development of spot market. Futures trading is based on intensification and standardization of production and circulation, as well as relatively high degree of credit rating and rule by law. When futures market made debut in China in the 1990s, these conditions were not met. Therefore, with the great development of futures market, it is necessary to take reversed course to fill a gap in this regard, and the futures market should extend downwards aggressively.
Upward extension implies development of some derivatives, expansion trading range and advancement from domestic level to international level. Downward extension refers to integration of futures and spot goods. Trading units of some varieties are relatively large. How to meet the different needs of the majority of market participants? It is possibly needed to extend downwards. Standard warrants swap trading is really a good starting point to explore for integration of futures and spot goods. This demands joint efforts of SHFE and all its members. SHFE can provide some capabilities for risk management, and members can develop different products and services so as to link up downstream and spot market, and help participants in the real economy and investors extensively utilize the market.
Thank you very much for your question. Right on. For SHFE, there is still a lot of work to be done in this regard.
9. Question: Hello, I am a journalist from Securities Daily. Currently more and more futures varieties are listed by SHFE. Approach to better protecting the rights and interests of small and medium-sized investors is an important issue for the market. I would like to know about the current specific working arrangements of SHFE in terms of protecting the rights and interests of small and medium-sized investors and forefront supervision? Thank you!
Yang Maijun: Well. Protection of the legitimate rights and interests of investors is the most fundamental duty of SHFE. If the rights and interests of investors can not be adequately protected, the development of futures market would lose driving force and source. As special nature of the futures market lies in leverage, both profit and loss are magnified. Coupled with physical delivery of commodity futures, ordinary investors shrink back and present limited range of participation. Moreover, some problems related to non-standard market order are exposed in these years. Therefore, after CSRC puts a new premium on these problems, in 2014, SHFE vigorously launched supervision transformation and took a series of measures to crack down upon all kinds of illegal and violative activities and clean up the market environment.
Specifically speaking, firstly, SHFE strengthened real-time monitoring and surveillance, and did a good job in normalized supervision for irregularities. It investigated a total of 1,217 abnormal situations of the market, and found 66 cases of self-matching trade, frequent declarations and withdrawals, large-amount declarations and withdrawals, overrunning of speculative positions limit under actual control relationship accounts and other irregularities. Window guidance acted as important guiding mechanism for trading market. 932 cases of potential irregularities and violations were promptly warned.
Secondly, SHFE actively cracked down upon illegal and violative acts. It investigated a total of 129 suspected illegal trading acts and filed 28 cases for prosecution, among which 11 cases were resolved by supervision warning, 11 cases were resolved by penalties, 2 cases saw end of investigation and 4 cases under ongoing investigation at present. At the same time, SHFE shortened the duration from detection of violations to countermeasures to the utmost extent, and alleviated adverse impacts of illegal trading on the market.
Thirdly, SHFE strengthened "Five in One" supervision cooperation. It joined hands with CSRC, agencies of CSRC, futures companies and China Futures Association to actively push forward the update of illegal trading information in integrity system. Through regular data exchange mechanism within integrity system, it enhanced screening, comparison and monitoring for specific account information, which are great achievements for strengthening supervision and maintaining market order.
Trading order is rectified at present. I think this is the most fundamental and the most important aspect for protection of the legitimate rights and interests of investors.
At the same time, SHFE optimized and innovated supervision business and other aspects. For example, a concept of "Digital Supervision" was proposed in 2014, with a view to promoting interaction and communication among regulators, members and investors and keeping pace with market innovation and development.
Firstly, SHFE continuously optimized supervision rules and innovated supervision measures, established Supervision Compliance Information Platform and Member Compliance Operation Electronic Platform, revised Measures of SHFE for Investigation and Handling of Irregularities and Measures of SHFE on Member Inspection, and improved work efficiency between the Exchange and members in the case investigation process.
Secondly, SHFE promoted the construction of Big Data Analysis Platform, enhanced the ability of digital inspection, strengthened investor behavior analysis and market risk research, and said goodbye to passive response to previous cases in the past. Meanwhile, SHFE kept abreast of international supervision developments, and learned from the advanced supervision experience to upgrade scientific level of supervision work.
Thirdly, SHFE vigorously propelled interaction and communication among regulators, members and investors. "The First Risk Forum of SHFE" was held. SHFE carried out a variety of training for chief risk officers of members, and launched four sessions of this kind. 145 chief risk officers of futures companies took part in the training, with the coverage of 96%. SHFE listens to the market advice by telephone, WeChat, SMS and other means of communication. Supervision innovation of SHFE is demonstrated in this regard.
In terms of Market Services and Investor Education, SHFE continued to make greater efforts to cultivate market and provide innovative support for members. With "Futures Forum", "Advance together with Institutional Investors", "Service for Industry" and other activities as highlights, SHFE held 47 training seminars with different focuses. SHFE officially unveiled Non-ferrous Metals Industry Training Base, and set up field teaching centers in six outperforming companies such as Jiangxi Copper Co., Ltd and Tongling Nonferrous Metals Group Holding Co., Ltd. SHFE worked with members to hold 605 market conferences, and a total of 15,000 enterprises attended. SHFE also co-organized 124 field research sessions under friendly cooperation.
In addition, leaders of SHFE earnestly discuss with members in different nationwide business unit zones for two consecutive years. In 2014, an innovation also met with great success: the establishment of Market Service Center, Customer Hotline and Public Mailbox. In this way, any questions of investors and members can get timely response and feedback from SHFE. SHFE also strengthened all-round cooperation with institutional investors, and executed strategic cooperation agreements with China Non-Ferrous Metals Industry Association, Industrial Bank, China Merchants Bank and China Minsheng Bank one after another.